Some of the links in this post are affiliate links. This means if you click on the link and purchase the item, I will receive an affiliate commission at no extra cost to you. All opinions remain my own. Pin Share
It is Friday again, and as a blogger I always look forward to the weekly blog hops that allow me to meet and greet new potential friends.
For those of you new to this blog, welcome, and for those of you who are a regular reader I encourage you to participate in a blog hop.
I do ask that you follow me because there is something about this blog and my "voice" that you like. I ask that you don't follow me simply to get another person in the grand numbers game we can all play. As for me, I choose blogs that I enjoy and have similar interests, and I hope you will do the same.
Happy hopping, and enjoy the weekend!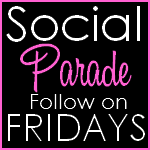 Social Parade Followers Friday Blog-Hop is a weekly link-up hosted by Smart and Trendy Moms .
Please follow and like us: